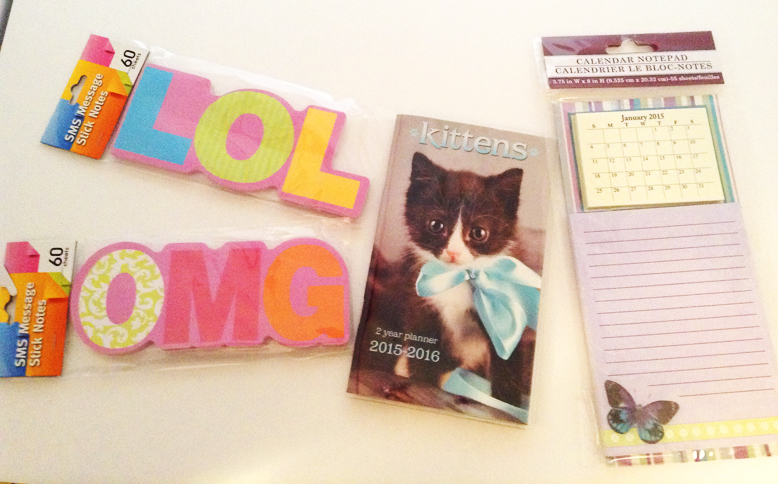 I found these four items some time in the last month or two. I could not go without sharing these with you! It is my last frugal find for today, a bonus for you. It is worth noting that many nice stationery supplies are to be found at Dollar Tree. I also recommend trying more than one or two different stores as they often will have some different stock depending on location, surrounding area, and size of store. They have had some nice calendars, memo pads, sticky notes, clips, flags, and the list goes on.
These four items, of course at one dollar each; are two sticky note pads with the LOL and OMG acronyms which I love, the TWO year calendar with kitties, and the calendar memo pad. The two year calendar planner actually, not only has two years in it, but each month has 2 to 3 kitty images, color background, differentiating color highlights, lines on every day for writing notes, holiday  listings, before and after month mini calendar on each month, moon phase listings, a notes section on each month, a mini-contacts section/address section in the back, and a few notes pages in the back as well! That is a lot for one little pocket calendar for one dollar! It is perfect for a purse and quick on the go notes and appointment jotting.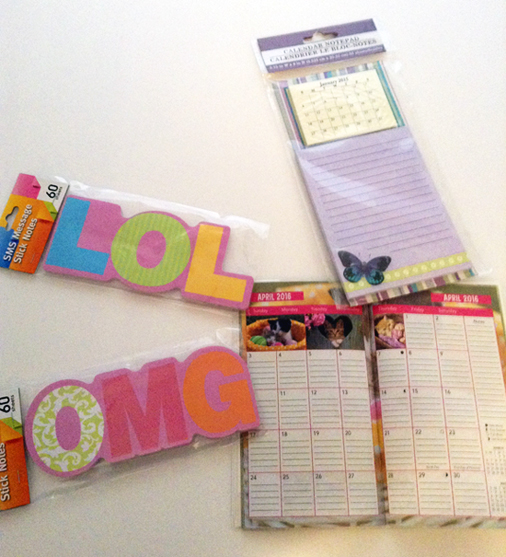 The memo pad is a really neat idea. It has the memo pad on the bottom of course, and the calendar pages pad up top. The mini pad has four sheets for each month. This makes them nice for putting in all your calendar need locations, like your wallet, your planner of nearly any size, a journaling spot, and even would probably fit nicely in a Project Life album slot. I also think it would do nicely for jotting a small tiny note and sticking up as a reminder for someone, say an appointment for your child or significant other…stuck to their door or computer or to the fridge. I am sure there are lot of ways these can be used. The back of the cardboard they are stuck to has no magnet,  but I can see one could easily be put there for the fridge, etc. I love this combo pad, and think its a wonderful idea. You cannot beat the price too!
I love these dollar finds, and love all of the dollar store stationery and calendar items! I hope you find some goodies too!
Have a great week all,
Kat  :@
P.S.  – I hope to have a few more budget finds posted for you this week, a dollar store diy, and possibly some journaling cards if I can find the time. I have lots to organize here, and quite a mess to tend to.
Speaking of which, would any of you care to join me on my home organizing undertaking this year? I am open to sharing the process. But I must warn you, my home is in quite the mess. My goal is to get it to the point where we can host Christmas here next year, and for that it is a pretty large task for all this year. We are in the process of merging two households, loads of stuff, and several generations worth of things. Plus I have moved completely across country and come out of some rather large and difficult tragedies. So this very big job is the result of all of that. I am basically going to be setting both bigger and smaller goals, and it will take me most of the year, if not longer, coupled with all my blog goals, and then personal goals, and relationship goals. I might be up to lot of before and after pictures, and the ideas I come up with, along with links to valuable resources which also help me along the way. But, before I start yet another section, it will require at least a little feedback to know if there is any desire for this, and if it is worth the extra effort to do the work involved with documenting the ordeal. Let me know what you think.