I always love all the made-up arrangements and crafts that Michael's has. They often inspire ideas, let me know what's popular, and just are plain fun to ogle at! You can buy what they make, already made, or buy the materials and do it yourself…I love that option. I often will pop in there to pick up an occasional craft/etc. supply, or just to browse the dollar section. I cannot afford too much, so it is fun to browse an area I can actually fit into my small budget. Well the past week or two has been particularly fun. I have a few bargain finds to share with you, but I will start with this one, a 70% off clearance item from Christmas!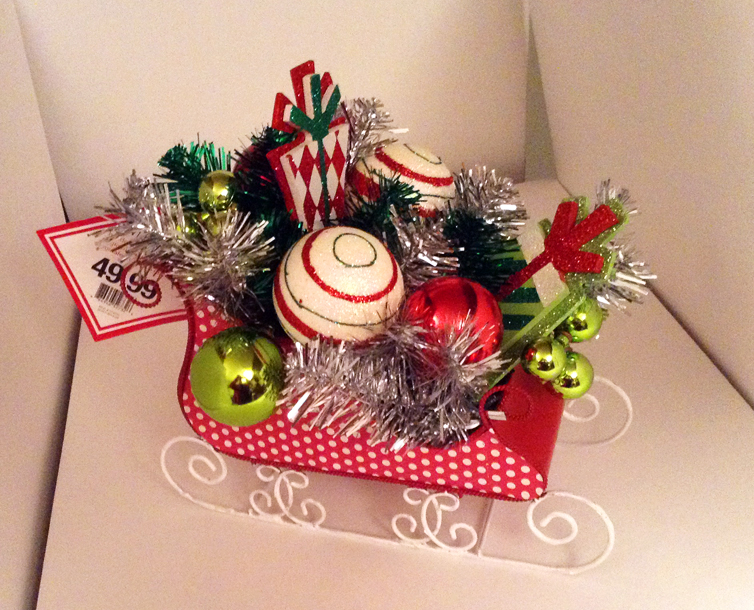 Now, as you can see, the original price tag says 49.99, but for this clearance sale it was jut 14.99. Fifty would be way too much, in my opinion, and I can make it for way cheaper, but the 70% off sale brought it down to fifteen dollars. In most places that is likely what you would pay for the beautiful sled it comes in. I don't think I could make it cheaper than that. The whole thing stands at close to a foot tall, with the sled measuring in at about 8 inches tall. I love this deal and I think this sled will be my table centerpiece next year. I love it!
All of the Christmas centerpieces and made crafts were at 70% off, and it was hard to choose. This was about a week ago, so I am not sure if they will have anything left, but keep in mind to go there right after a holiday and I am betting they clear out all that they made at a nice sale price. Check back there right after Valentine's and I am sure you will find a nice deal…I know I will be peeking in to see myself!
That is it for this deal…I might even post what else I bought there this past week, so stay tuned! =)
Warmest wishes as always,
Kat :@