Okay, so this might not be a big deal to some, but for me, it was a really GREAT find! I found this 4 piece bookmark calendar/magnets set for just 45 cents! This was at Michael's in the bargain/dollar section. The monthly bookmark pad is about 6 inches in height and a little over 2 inches in width. Each page/bookmark in the pad is serrated so it is easy to tear them out. They are thick, decent quality, like that of a greeting card thickness, and better than printer cardstock.  Each page also has a different butterfly on flowers scene. The colors on each seem to go well with the corresponding season.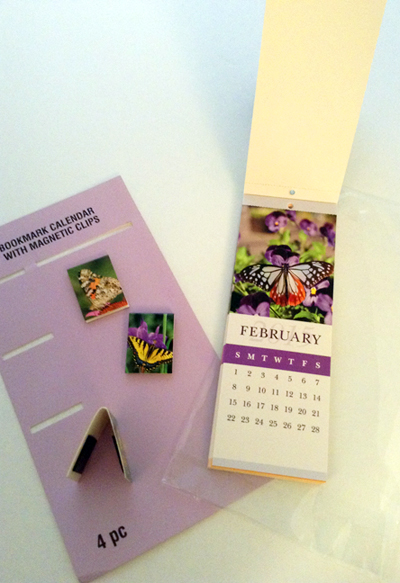 The magnetic bookmark clips are approximately 1 inch by 1 and a quarter inch. They are of the same quality and thickness of the calendar bookmarks. There are three of them, and the magnets are decent quality. I was able to put them on a bunch of pages, at least 5-10 or so and they held on well. 
I SO love the images, and of course butterflies are one of my favorite creatures after kitties. For 45 cents you cannot beat this, not even at the dollar store! I think the sale price brought it down from just a dollar or two, but I am not positive of this. I can only tell you that my receipt says 45 cents. Michael's has such great deals and stationery items in their dollar section, so I recommend checking it out! Especially check before and after holidays for special finds like this one.
I look forward to using these in both my planner and journals. I am loving these!
Happy Bargain Hunting All,
Kat  :@