Day 3 – Prompt Day 2
To start, I apologize if people have wanted to see more of this from me lately. Aside from this time of year being hectic for everyone, including me, I am finding motivation hard to come by right now. I think the grief has set in pretty hard regarding my Dad (if you have not read before now/lately, he passed away in October after many hard years of suffering from heart problems, at only 64.)  Also, being the first Christmas without either parent being alive, makes it doubly hard, plus I am missing other people in my life. I have no family (blood family) out here whatsoever. I used to go to my uncle's home for Christmas Eve…for many years. My father would be there, all his family, my brother and his family would go, etc.  I would spend the holidays with them, and also my mother and other family I love with all my heart. I have none of them out here. It is hard to adjust to. I know I will though, like anything, it takes time.
I do however, have new family, which I will go into below. As I promised readers, and especially myself, I am going to continue this gratitude challenge until it is completely and thoroughly done. I am determined, even if it takes me six months, though I hope not.  I would like to work up to where I am doing one each day OR at least thinking and writing down something I am grateful for every single day. But for now, I will allow myself room and a break to not do it perfect, and just continue working the muscle until it is strong. I am however, trying to accomplish something/tasks each day, even if it is a smaller thing. As I have said before, even if I am moving very slowly, I will keep shuffling my feet every day and keep moving…that way I can't be buried. 😉  So, without further ado, day number three here…
 Once again, as I will every day, before I respond to the prompt, I wish to offer gratitude to Crystal Wilkerson, for not only creating these prompts, but for her graciousness in allowing me to use them here. You can find her wonderful work at this site: http://www.crystalwilkerson.com/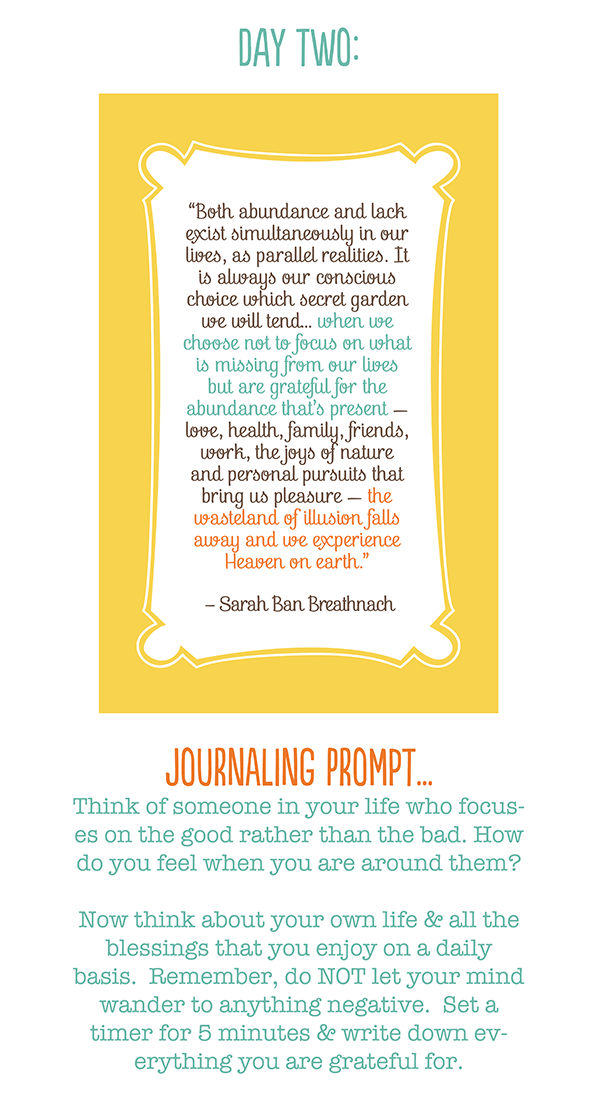 Two part answer again, one to answer the first question, and the second to spend the five minutes writing down what I am grateful for.
One, when I think of someone who focuses on the good, I think of my best friend L. She is the one who took me in when I had no one else in the whole world to turn to. It is when I had no where to go, and was on the verge of becoming homeless. This was just a short three years ago. I did not even want to go on living. Fast forward to today, I am alive, and despite discouragement, moving slow, or having bad days, I DO truly want to live again (for those suffering this, it really DOES pass, so hang on!) I have hope this past year, for the first time in so long, that I honestly forget. I want to get back to what I love, hence this site, and I want to really live to the fullest. I want to repair that which needs it in myself, and repair any relationships or feelings toward relationships which might be long gone (such as those passed away.) I want to live a long time, mostly for those that love me, and to spare them the agony of watching someone they love suffer and/or dying young, and I want to have no regrets when it is time to go. If not for L, I don't know that ANY of these feelings would be with me right now.
She strives to look at all situations with a positive force, with a positive attitude. I recall a very hot day like a year or two ago. We were out getting a bite to eat. Now mind you, I do not handle high heat very well. I get downright cranky. In my defense, my body does not handle it well, and I get heat exhaustion. But, it does not help that I just get cranky and negative too. I complained about the heat where we were eating, and was so uncomfortable. Now, without making myself feel bad or guilt for being human, I will add to, and gravitate toward what I would like to be. She just shrugged it off and said she did not like it, but could not change it (how hot that day was) and just made the best of what was.
I will always remember that day. I honestly think my attitude in how I handle things, will truly change how something can feel to me. I cannot change things around me, that is not in my power. But, to some degree, and as my body will allow me to, I can control how I handle it…at least with time and self training. Again, it is like another muscle. I am going to try to teach myself to take a situation, and either find the good in it, or tell myself it will get better. I figure the longer I tell myself this, the better chance I have of eventually having a positive reaction be second nature. If bad experiences as a child can create "negative tapes" in my head, and negativity can be trained, then why not train the opposite?  It makes sense, right? So, repetition and exercising the positive, will be a large part of my mental workout, until these things become learned to me.
As to how I feel around her…honestly, very positive most of the time. She gives off an energy of love and giving. It's the kind of person that you long to be around, to emulate, and to share with. I want to be like that, I want others to want to be around me. Most of all, I want to learn to give of myself like that to others. I would not be here if not for the giving of others, so, in that spirit, I truly want to pay that forward.
Now, for the gratitude part. Okay, I grabbed a drink, set my timer, and I am going to just write down everything I am grateful for for five minutes. I hope when you are done reading, you will join me, and set your timer and write down all you are grateful for. I think this is a great exercise for coping in this sometimes crazy world. Feel free to share your writings in the comments. I really do welcome feedback.
Here goes: I am grateful for…
Okay, this might sound corny but, LOVE. I am most grateful for love. In this chaotic world, it is THE number one thing that makes life worth living and then some! No matter what I have been through in my whole life, the ups and downs and the really excruciating, love has always been present somewhere around me,  if I looked hard enough.  It is the one guide, strength, up-lifter, and rule that anyone can live by and find if they really do seek it.  It does not matter religion, faith, beliefs, race, creed, anything…love is universal. If you live by it, you get it back tenfold. I am so grateful for love. For better or for worse, my first lessons in love started with my family, mostly my mom, but everyone in it. And those lessons continue every day. When I had darkest days, a couple years ago, I had love around me, in L. She taught me even more about love.
I am grateful for L, for all she has given me, for all she has taught me. Her and her family have shown me what I want love and family and giving to look like in my life, for me. I could get even more sugary about it, but suffice to say for now, I am grateful for the rest of my life to her, and the best thing I can give back, is to get better, every day, learn, and move on and give back wherever needed.
I am grateful for a roof over my head, for a man in my life, J, who is everything in a man I could ever ask for or dream of. He is not perfect, thank goodness, as I am no where near that either, but we fit each other. We are so much alike, yet seem to complete what the other lacks, and learn from each other to become better people through sharing. I FINALLY know what a healthy relationship should be and look like.
I am grateful for food to eat every day, in a world where some might not have that, I am grateful for heat, and running clean water…the things we can often take for granted. I am thankful for the internet, to explore the world and connect to others on a new level, and to use the tools to expand my mind, and the creative things I like to do. I am grateful for connectivity to others, for electricity and appliances and the things that are simple yet taken for granted, and many do not even have those basics. I am blessed for those and so much more.
I am grateful for my wonderful, beautiful kitties, who share their unconditional love and warmth and companionship with me, and who are just darn nice to rub their bellies (the ones that are not like bear traps that is), and feel their fluffy fur.
I am grateful for my health, despite its imperfection or issues. I can still walk, and talk, and see, and use my hands to do what I love. I can still see the sunset every day, and a flower. I can hear music, and own enough or can find enough to find joy in.
I am grateful for all the family I have ever loved and known past and present. Though most of my blood family is either gone or too far away to see much, I now also have extended family, in L's family and friends, and my sweetheart J's family and friends. I have new people in my life to share with, learn from, and love. I have new experiences in front of me.
I am grateful for the chance to get up, brush myself off, and move on in life and get to a better place. I am grateful that I had the strength and beloved guidance of my mother to not ever get stuck on drugs or alcohol. I am grateful she and her family taught me, (admittedly through bad example, but that's okay, good has come of it,) to not smoke, and I gave it up 20 years ago and never went back. I am grateful to my Dad and his family, through the same above sentiment, that I have never turned to alcohol and do not suffer their affliction. Both of those things took determination, work, and strength to make sure I did not come down with them.
 I am living proof you can have those thing in your genes and family and life and either overcome them, or not let them afflict you. I see what people with addiction go through, and it is so painful and sad. I wish them nothing but love and hope and a better place, and I am grateful that I have become one of the first few in my family to overcome the odds…and not end up with them as issues for me. (Now, if I could just cure my addiction to chocolate.) But, in all seriousness, I feel lucky and blessed for that, but also know it took my own fortitude and work. In other words, when problems hit, I did not turn to self-medication. I do not blame or judge those that do, my own father did and he was still a great man. but I am just so grateful that I did not follow in those footsteps.
I am grateful for all the little things any of us, including me, can take for granted. Access to a store for needed things, access to food, a warm bed, possessions that might offer me assistance or warm memories.
I know this might sound trite or like I am trying too hard, but this is what came to my mind just now, and I shall let it just flow out….I am grateful for any readers I might have. I know I have not heard from anyone yet, but I know one day, I will. It takes time for you to get to know me, and vice versa, and that is okay. Though the statistics tool is a bit convoluted, it seems to reflect I have some readers, at least here and there. So for anyone hanging in there with me, and reading me, as verbose as I can be, thank you. Thank you for sharing this with me, letting me be myself, and hopefully sharing inspiration. If I give any, I am so grateful…if at some point you can share some inspiration, I am doubly grateful.
Okay, so that went beyond five minutes, but that is okay! See!! It is catchy. Once you get started, it is hard to turn it off. It tells me you CAN train the mind, with three key things, in my opinion and observance…consistency, perseverance and effort. There has been so much negativity in my mind over the years, and so help me, I will train it away and chase it out of my head!
Well, I really hope that any of you might try these exercises. They help a lot. I also hope that you let me know how it worked for you, feedback on how I am doing, and just sharing in general.
Want to know what I wish for, for Christmas? Well, one of my wishes anyway, at least pertaining to this blog. I wish for starting with just one comment, (not spam as I have gotten already =P) just one person sharing their thoughts, inspirations, and feedback (staying constructive and positive of course.) And then perhaps, maybe more than one. But even just one would make my month. Every person counts to me, everyone is precious. So, don't be shy, drop me a note below! =) I would love to hear from you.
Thank you for reading, I really am grateful for my readers, even if I do still hear crickets, I know you are there somewhere. 😉
Warmth and love to all of you, always,
Kat
P.S.  Upon reflection, I thought you all should know, that something and someone, or someone*s* inspired this prompt choice today.
I read a story on a Facebook group about a woman who had a bad experience with reaching out to help someone. Her story is rather sad, though her sense of giving is a happy thing. The person she helped behaved badly and left her with a bad taste in her mouth. It was not a good experience. It made me think of the person that reached out to help me, essentially a stranger…L was that to me. If not for her, as I said above, I would not be here.
So, in addition to my thoughts of gratitude to L, I would like to say I am grateful for not just L, but all people like her. I am grateful for people like J.H…the person who inspired me today. I want her to know, as I wrote to her already, that her giving is not for naught. I know deep down, that love and giving and kindness ripples out so much further than most of us can ever see. J.H…you touched me today, and I am sure a lot of people. I hope for now, that is enough to help you feel somewhat better about the circumstances that occurred. I know it might take you time before you can give again, and perhaps the experience will help show you how to find someone better behaved, and lead you to a person who can receive your giving at the same time as leaving you with a nice experience. I am not sure if she will read this, but I thought readers might like to know what inspired me today.
For now, I say thank you again, to you J.H. and all people like you and my best friend L. You never know when you can one day save someone's life, and I know mine was. And I received a best friend from it, to boot!
I truly am so grateful to you J.H., to L, and to ALL people like you!